Transmission and distribution costs can now make up half of an electric bill as utilities struggle with aging infrastructure, an increased threat of extreme weather, and the real threat of a cyber attack. Relatively little change has occurred to the structure of the power grid in the last decade, and the system is designed to favor large, utility investments that are recovered by increasing electricity rates.
But a new report from SolarCity shows how structuring the grid to embrace distributed energy resources like solar energy can save money while hardening the electric power grid in California. The aging grid requires a larger investment than seen in recent history, and the report finds the logical, cheapest option is to redesign the grid to "harnesses the full potential of distributed energy resources such as rooftop solar, smart inverters, energy storage, energy efficiency, and controllable loads."
The report first shows how the conventional approach of rate basing upgrades will lead to skyrocketing rates with inadequate improvement, as has been seen over the last 10 years. The market and technical architecture of the grid is largely unprepared to meet challenges facing the grid.
While it would be easy to write off the report, being authored by a leading solar installer, the report uses existing industry methodologies to quantify the net societal benefits of DERs (Distributed Energy Resources). It was also given input by the respected Stoel Rives Law Firm, and Rocky Mountain Institute,
The report concludes that a well though out grid could provide customer choice, increased resiliency and reliability, improved public safety, decarbonization, and reduced cost. In fact, the report found that in California alone, increased DERs would have a societal benefit of $1.4 billion/year in just 5 years. The finding is indicative of the rapid scaling that is possible with solar energy if policies are conducive.
California, which has recently received the lowest cost solar installation ever is adjusting to the new economics of cheap solar energy, and critics say high levels of solar energy will be too expensive. There is no question that California grid operators (CAISO) and IOTs (investor owned utilities) are experiencing challenges associated with the variability associated with high levels of variable renewable energy from wind and solar.
For example, the  Duck Curve below shows the challenge of increased generation that doesn't correlate with peak demand: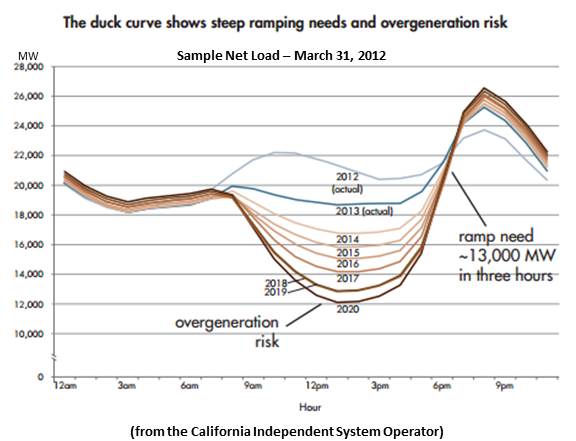 One way to address the challenge without abandoning renewable energy is introducing solar-storage combinations that make solar a dispatchable asset.  California is a global leader in energy storage technologies, with the CalCharge initiative and world leading research institutions like UCSD.
SolarCity and Tesla recently teamed up to on an affordable solar plus storage offering for Hawaii, who is even further challenged by variable generators than California.
Another challenge is large scale industry that is unable to "get out of the way" when cheap, renewable energy is not available. An example is the new Poseidon Desalination Plant near San Diego (Carlsbad), which requires a constant 38 megawatts.
Key Takeaways
Distributed energy resources offer net economic benefits to society worth more than $1.4 billion per year in California alone by 2020, including benefits related to voltage and power quality, conservation voltage reduction, grid reliability and resiliency, equipment life extension, and reduced energy prices. SolarCity Grid Engineering | www.solarcity.com/gridx | Page 3
To realize these benefits, the utility regulatory incentive model must change to take advantage of customer choices to manage their own energy. Utility incentives should promote best-fit, least-cost investment decisions regardless of service supplier – eliminating the current bias toward utility-owned investments.
Utility planning approaches must also be modernized to capture these benefits. Utilization of an integrated distribution planning framework will unlock the economic promise of distributed energy resources, while widely sharing utility grid data in standard data formats will invite broader stakeholder engagement and competition.
Recommendations and Next Steps
Our ultimate goal is to help provide concrete evidence and recommendations needed by regulators, legislatures, utilities, DER providers, and industry stakeholders to transition to a cleaner, more affordable and resilient grid. While the details of implementing these recommendations would vary from state to state, we see the following as promising steps forward for all industry stakeholders in modernizing our grid:
Future regulatory proceedings and policy venues related to capturing the benefits of DERs should incorporate the expanded benefit and cost categories identified in this paper.
Regulators should look for near-term opportunities to modernize the utility incentive model, either for all utility earnings or at a minimum for demonstration projects, to eliminate the bias toward utility-owned investments.
Regulators should require utilities to modernize their planning processes to integrate and leverage distributed energy resources, utilizing the integrated distribution planning process identified in this paper.
Regulators should require utilities to categorize all planned distribution investments in terms of the underlying grid need. Utilities should make data available electronically to industry, ideally in a machine-readable format.