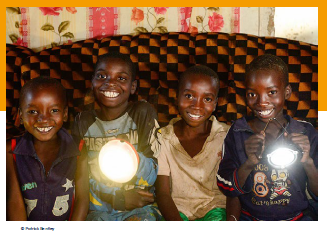 A little bit can go a long way, and that's proving to be the case regarding off-grid PV solar energy and solar products. Probably unfamiliar to many living in countries where power grids provide ¨always on¨ access to electricity, a small but global market for off-grid home and community PV solar energy systems and associated solar products has been taking root and growing.
Global unit sales of off-grid solar products increased 5% during 2016's first half as compared to the second half of 2015, rising from 4.1 million to 4.3 million. Revenues increased 18%, from $118 million to $139 million, in large part due to rising sales of larger, higher priced products, according to the World Bank Group's Global Lighting Program and GOGLA's (Global Off-Grid Lighting Association) second semi-annual market report.
This week also marked the debut of Global Lighting Program's ¨Off-Grid Solar Market Trends Report 2016.¨ According to the report, which was produced in cooperation with GOGLA and in collaboration with Bloomberg New Energy Finance, use of off-grid solar products has improved energy access for 89 million people in Africa and Asia. 
Off-Grid Solar Market Trends and Impacts
The use of PV solar for self-generation has been growing rapidly, both in non-industrialized and industrialized countries, particularly in rural and remote areas that haven't had reliable access to affordable electricity before, such as across sub-Saharan Africa. The beneficial impacts are numerous and varied, including reducing deforestation and degradation of local environmental resources.
Highlighted in the ¨Off-Grid Solar Market Trends Report 2016¨:
1.2 billion people without access to the power grid;
$27 billion spent annually on lighting and mobile-phone charging technologies;
$276 million invested in the off-grid solar industry in 2015, a 15-fold increase since 2012;
$3.1 billion market opportunity for the off-grid solar industry by 2020, reaching 99 million households;
The multiple benefits use of off-grid PV solar and solar products convey is clearly evident in remote, rural regions of non-industrialized countries, such as those in sub-Saharan Africa, where their combination is providing safer, healthier, more reliable and higher quality living conditions and socioeconomic opportunities.
That includes spurring local small business and job creation. Part and parcel of this, it's fueling new consumer demand for electrical and electronic products – TVs, radios, mobile phones, computers, etc., as well as LED lighting.
According to the Global Lighting-GOGLA's second ¨Global Off-Grid Solar Market Report: Semiannual Sales and Impact Data¨ report:
Sub-Saharan Africa accounted for 45.5% of products sold (1.96 million units) and South Asia accounted for 40.9% of products sold (1.76 million units).
Within sub-Saharan Africa, East Africa represented about 70% of total sales volume in the region and 77% of revenues.
The majority of sales in South Asia were concentrated in India, where 1.72 million products were sold out of a regional 1.76 million.
Quality-verified products represented almost 80% of all sales and over 75% of all revenues from cash sales.
Globally, reported unit sales of 3-10Wp multi-light solar systems have increased five-fold from the last reporting round, while conversely, sales of 0-3Wp single light products decreased. This indicates consumer movement up the energy ladder and increased confidence with solar lighting.
The Social Benefits of Off-Grid Solar
Growing use of off-grid solar energy and solar products is yielding substantial social benefits as well. Residents, typically women and children, are spending much less, if any, time gathering or earning money to purchase traditional fuels, such as charcoal or kerosene.
That frees up time for other activities, such as starting and running new businesses, which have included charging village residents' cell phones. Children have more time for play or other tasks, including schoolwork, which they can do during evenings with the added benefit of much safer and higher quality LED lighting.
According to the 1H 2016's ¨Off-Grid Solar Market Report¨:
5 million people are currently living with improved energy access. And to date, 36.5 million people have been lifted from zero energy access to Tier 1, in accordance with the SE4All Global Tracking Framework.
To date, as customers moved to solar products, they collectively replaced 20.8 million harmful lighting sources including kerosene lamps, candles and battery-powered torches, saving US$4.33 billion on energy-related spending.
The January-July 2016 ¨Global Off-Grid Solar Market Report¨ is free to download: https://www.lightingglobal.org/new-gogla-ifc-report-finds-over-4-million-off-grid-solar-products-sold-in-first-half-of-2016-dynamic-global-growth-continues/
¨Off-Grid Solar Markets Trends¨ is available via:  https://www.lightingglobal.org/launch-of-off-grid-solar-market-trends-report-2016/
Originally Posted by Andrew Burger in Microgrid Media